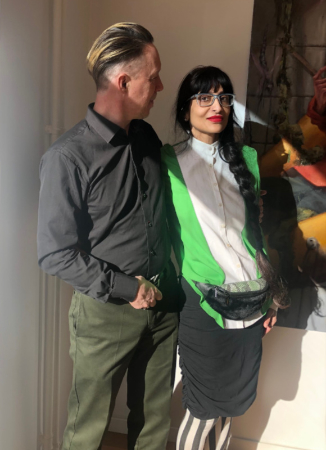 CG Gallery is an initiative that grew out of sheer frustration and passion. Arjumand Carlstein (C) and Lina Gasparaviciute (G) met at a local art gallery 2018 where Lina had an internship. Shortly after we decided to launch our own gallery. Since its inception in 2019, CG Gallery has focused on the intersection between contemporary art and craft. We mainly collaborate with emerging and mid-career local artists. The steppingstone for this venture is our hometown Malmö, Sweden. However, as a nomadic art gallery, we have no set location. For now, we prefer to explore the possibilities of arranging art exhibitions and art events in different spaces, in Malmö and elsewhere.
Reaching out to new audiences is a priority. In that respect, one of our most challenging missions is to make the notion of contemporary art less elitistic and intimidating. After all, the exhibitions are there to be experienced by You. For free. Accessibility is key. Of course CG Gallery will also gladly assist you in finding an original artwork that truly speaks to you. But first and foremost we want more people to discover fresh artistic expressions and a plethora of different materials.
As of January 2023, Arjumand Carlstein will continue running CG (Circumstantial Gap), joined by a new gallery partner Fredric Holst. Our plan is to increase the number of annual exhibitions.
Last but not least, we are constantly on the look-out for new collabs and un-orthodox ideas!
Do not hesitate to contact hello [@] cggallery.se
We take art seriously without taking ourselves too seriously.
Arjumand (aka Aje) Carlstein
Co-Founder, Manager and Material Girl
CG Gallery
👇🏼Down to art